Frequently Asked Questions
Are you fully insured?
Yes. We have full Workers Compensation Insurance and Public Liability Insurance to $20 Million.
Our membership with Trades Monitor & HIA gives you the confidence of knowing that everything possible has been done to ensure that we are certified as having been trained according to the requirements of the WHS (OH&S) Act and that we carry appropriate insurance.
Click on the links below to view any of our insurance documents:
Do you have Home Warranty Insurance?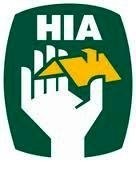 Yes, as members of HIA (Housing Industry Association) we can provide HWI when necessary. We also provide the contracts, a check list and a consumer building guide.
Are you Qualified to carry out Roofing works?
Yes, we are qualified Roof Plumbers and Roof Tilers, License #241729C. Our skilled team includes qualified Carpenters, Roof Tilers & Builders.
Each member of the team has a White Card, Working at Heights Certification and certified to install WHS (OH&S) compliant Anchor Points and Safety Systems.
What is the maximum height you can reach?
Our ladders can comfortably reach the roof of a four storey building. Using an access hatch though, will allow us to work on any height roof.
Down Pipes on a 4 storey Building ⇒
Will you clean up your mess?
It is our policy to leave your grounds as tidy as we found them, if not tidier. Any accumulated debris and excess materials are removed from site.
Do I need to be home?
We will gladly visit your property when you are at home if that is your preference. However, if you are happy for us to visit in your absence, we can simply leave you with a written quote or contact you via phone to obtain your approval and then commence work straight away. We offer a discount on all work approved on the spot.
What payment methods do you offer?
We accept Cheque, Visa, MasterCard and internet transfer.
No, we don't accept 'Cash' - or payments without a tax invoice. You have the peace of mind that if we are honest in regard to our tax obligations, we will be honest in the work we do for you.
What Areas do you service?
We supply our services to all suburbs within the Sydney metropolitan areas. We live in the areas we work in.
Why do you charge a Call Out Fee?
Our services are in great demand. Our team are all highly qualified and experienced professionals. Every kilometer and minute costs money, so if we offered all our leak detection and roof condition reports at no charge we would be out of business pretty soon!
Where necessary therefore, we charge a minimal call-out fee which will be subtracted from the cost of the job if approved anyway. So it doesn't actually cost anything, unless you are just collecting quotes...