Anchor Points and Roof Safety Systems
We install Anchor Points for Tiled and Metal Roofs on residential, commercial and strata managed properties. Our anchors are specially designed to absorb energy, reducing the risk of injury or damage to your property. Our anchor points provide 360 degree access, reducing the amount of anchors needed to make a roof safe and are rated to withstand 21kN. (AS/NZS1891.4 standard). Our fall arrest anchor points also have low visual impact so they wont detract from the appearance of the roof or structure.
Certification and Annual Re-Certification
Each Sydney Roof & Gutter Safe Roof Access System is supplied with a Certificate of Compliance and a full Access System Plan showing the position of each individual component installed. We have a free reminder service to annually remind you when your Safe Roof Access System is due for re-certification. We are fully qualified to re-certify existing systems.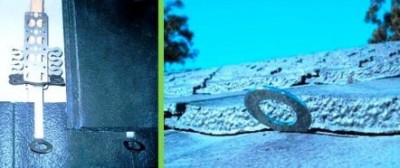 360 degree energy absorbing anchor point for a tiled roof
Installing a Safe Roof Access System is an investment in the property from a servicing & WHS/OH&S compliance point of view.
You may not at present be able to install a full Safe Roof Access System due to budget or other constraints. Why not consider installing one or more anchor points to improve safety? You could do this at regular intervals until your property is WHS compliant.
Why Install a Safe Roof Access System?
You may not be aware that around 98% of all roofs in NSW are non-compliant to current OH&S legislation. This means that it is not possible for personnel to carry out any work on the roof in a completely safe manner. At present we do our best to keep our workers safe by setting up temporary anchor points where possible so as to remain safe as we work the perimeter of the roof, cleaning, installing or repairing roofs, gutters and downpipes.
The installation of a Safe Roof Access System ensures that from the moment the tradesman leaves the ground and starts climbing the ladder, until the moment he steps off the ladder at the completion of the work he is completely safe from falling and injuring himself.
Ladder Brackets

Left: Colorbond roof with 360 degree anchors, Right: Ladder bracket fitted to Colorbond roof
Our Ladder Brackets are made from Marine Grade Aluminium, and are quick to install. They are a vital part of any safety system as they are the access point to the roof, holding and stabilizing the ladder, preventing sideways movement. They also protect your gutters from ladder damage if your roof is accessed regularly.
Roof Access Hatches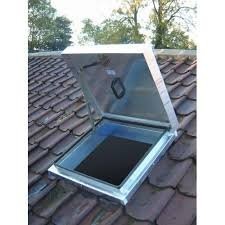 A roof access hatch allows easy and safe access to the roof of a building through the ceiling and then to the outer roof. Particularly effective on high roofs an access hatch allows a worker to gain access to the roof from inside the ceiling space. Some buildings are located in places that make ladder access to the roof very difficult or dangerously risky. By accessing from inside the risk of falling is significantly reduced.
We install a 'safe path' from the ceiling hatch to the roof access hatch so that workers cannot fall through the ceiling or be electrocuted by exposed wiring. They are therefore safe at all times and it limits workers causing any damage to the surroundings.
When installed as part of a Safe Roof Access System an access point will be located within one metre to allow attaching of the harness before climbing onto the roof. More anchor points are placed within regulated safe distances to enable access to the entire roof area.
There are many different types of roof hatches available, including hatches with a clear dome to allow light into the ceiling space and Colorbond colors to match your roof or gutters.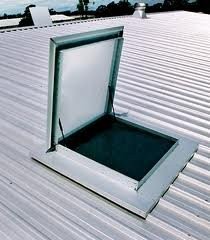 Our standard hatch for tiled or metal roofs is 800x800mm, is made of Zincalum, has gas struts and has a lockable lid.
Talk to us about your specific needs.