Gutter Cleaning Sydney - Roof Cleaning Sydney -
We understand that our customers are looking for a fast, safe, friendly and reliable Sydney gutter cleaning service.
Sydney Roof & Gutter currently services over 4300 strata titled properties and numerous real estate managed properties, with more than 65 strata and real estate management companies across the entire Sydney metropolitan.
We also service over 3000 residential properties each year, over 1200 commercial properties including many industrial factory complexes, hospitals, government buildings, hotels, colleges, and retail outlets.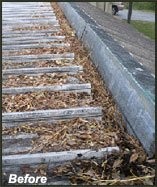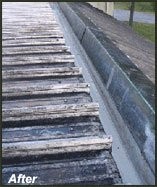 We service properties of any height & size from single storey shop front awnings to multi-storey commercial buildings and large multi-unit factory complexes. Your clients are our clients and our endeavour is for the professionalism of our service to reflect back on you - Matt
Sydney Roof & Gutter focus on providing a service that is fast, reliable, efficient and requires minimal management on the part of the strata manager or real estate agent.
At the completion of the job, we will completely clean up any mess and remove debris from the site.
Gutter Cleaning Sydney
Our service also includes:
Risk Assessments on each visit to each site.
Roof or Gutter repairs if required.
Itemised roof and gutter condition report upon completion.
Free reminder service.
Why Clean the Gutters Regularly?
"A stitch in time saves nine." Regular cleaning of your gutters and downpipes prolongs their life. It will also minimise the chance of internal water damage due to blocked downpipes. Although it is not always noticeable to the eye, regular gutter cleaning is as necessary as insurance.
How Do You Clean Gutters In Sydney?
We do whatever it takes to clean them properly and safely. Depending on the circumstance, we may decide to clean the gutters by hand, or with a blower. We check each downpipe and flush as necessary.
Once complete, we will ensure an excellent clean-up leaving the ground level and exterior of your property in better shape than before! Why not read through our many compliments on our Testimonial page?
Whether you need us to perform professional roof cleaning or a full roof replacement, we offer the same outstanding value for money and expert workmanship.